Nationally, there were 68,988 wildfires reported in 2022, compared to 58,985 wildfires reported the year before, according to the National Interagency Coordination Center. Of the reported wildfires, 7.5 million acres burned in 2022 compared to 7.1 acres in 2021.
Additionally, a total of 2,717 structures were reported destroyed by wildfires in 2022. That number included 1,261 residences, 1,294 minor structures and 91 commercial/mixed residential structures, according to the NICC. The state with the highest number of structures lost in 2022 was California with 492 residences, 11 non-residential commercial properties, two mixed commercial residences and 252 minor structures, the NICC reported.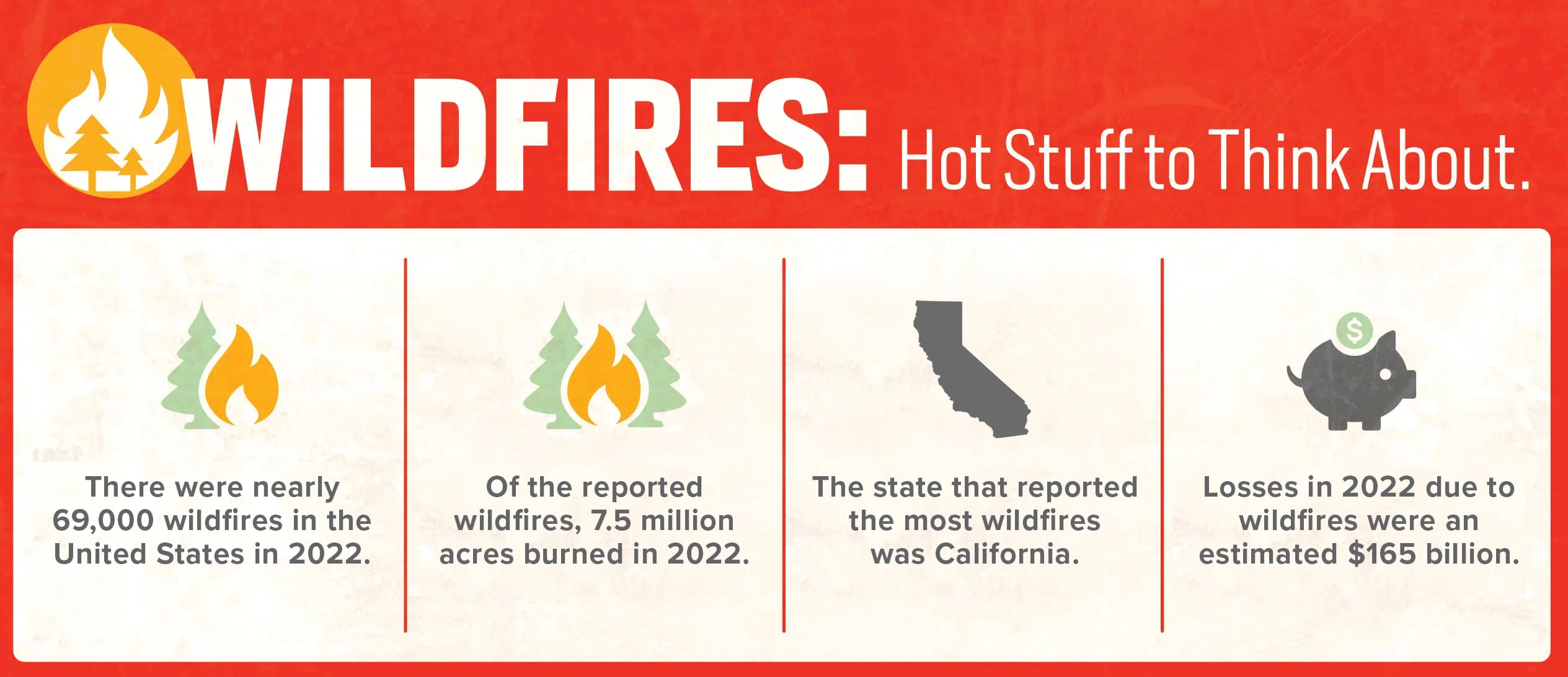 For millions of residents who are forced to constantly brace for wildfires that threaten their property, there are a number things that can be done in preparation of a potential disaster.
Prepare your home
Because the roof is the part of your home most vulnerable to an outside fire, make sure you clean your gutters of dry leaves and use the right roofing material. Instead of wood or shingles, opt for steel, tile or composition roofing materials if possible. Wood is also common for walls but, since it is highly combustible, ignition resistant materials like fiber cement or stucco are better options.
Get defensive on your property
It's important to create defensible space between your home and the grass, trees or shrubs that surround it, according to CAL FIRE. The space, or buffer, should be categorized into two zones and items that can easily ignite should be removed in order to slow or stop the spread of a wildfire. These zones will also provide firefighters a safer area to work in should they need to battle a blaze. Zone 1, according to CAL FIRE, extends 30 feet from buildings, structures or decks to your property line – whichever is closer. Zone 2 extends from 30 feet to 100 feet out from buildings, structures, decks or to your property line – whichever is closer.
In Zone 1:
Remove dead grass, dead plants and dry leaves from yard
Keep chimney(s) cleaned and screened
Scatter trees and keep tree branches trimmed
In Zone 2:
Make driveway accessible with a visible street address
Place wood piles and fuel tanks at least 30 feet away from structures
Keep storage sheds away from house
Regularly prune trees and brushes, removing dead leaves and needles
Avoid outdoor burning; recycle mulch and compost
Create an emergency plan
It's critical to know where to receive emergency alerts from authorities and coordinate an evacuation plan with your family. It's also critical to develop an emergency supply kit, including food and fresh water for three days, flashlights, first aid kits and cell phone chargers. Check out ready.gov for more suggestions on an emergency plan and supply kit.
Make sure your insurance is in order
Call your independent agent or carrier to understand what your policy covers and make sure your policy is updated to reflect any changes to your property. If you are a tenant we recommend purchasing renters insurance to cover any losses to personal property in the event of a fire.
Take an inventory
In the event a fire damages or destroys your home, replacing your possessions may be easier if you previously documented the contents inside. Save receipts in a fireproof lock box or save to the cloud, and record your rooms, garage, closets, appliances and valuables with video and photos.
To fully prepare, check out great resources like the California Department of Forestry and Fire Protection for more advice. Most importantly, stay safe and pay close attention to fire and public safety officials in your region as wildfire threats escalate.
Please Note: This content is not intended to describe any specific coverage offered by MAPFRE Insurance. No coverage is provided, bound or guaranteed by this article. Available coverages, credits and discounts vary from state to state and are subject to eligibility criteria and policy terms/conditions, which will control in the event of conflict between this article and your insurance policy. For information about your policy, please review your individual policy contract and speak with your insurance representative.
MAPFRE Insurance® is a brand and service mark of MAPFRE U.S.A. Corp. and its affiliates, including American Commerce Insurance CompanySM (Cal. COA 4928-8), Citation Insurance CompanySM, The Commerce Insurance CompanySM, Commerce West Insurance CompanySM (Cal. COA 1372-2), MAPFRE Insurance CompanySM (Cal. COA 3039-5), and MAPFRE Insurance Company of FloridaSM.