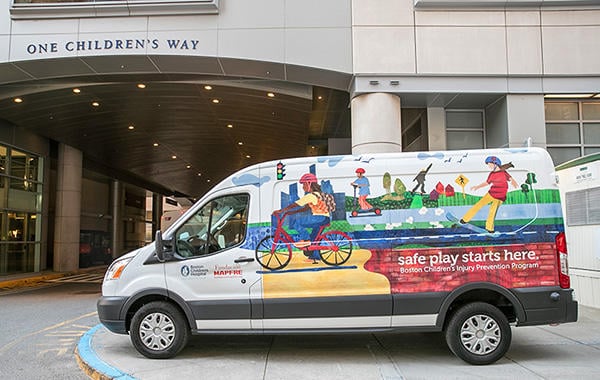 More than 29 million children under 15 years-old are treated for unintentional injuries at US emergency departments each year, and more than 4,044 die from those injuries. In Massachusetts, unintentional injuries lead to 117,000 emergency department visits for children under 15 years-old and nearly 20 deaths, making it the second leading cause of death for that age group in the state.
Fundación MAPFRE is pleased to announce its partnership with Boston Children's Hospital to enhance their Injury Prevention program. The program will now include a dedicated van which will expand the program's outreach capabilities. "Joining Boston Children's Hospital in its journey to increase education around safety and injury prevention is a tremendous honor and a meaningful partnership for Fundación MAPFRE," said Antonio Huertas, President of Fundación MAPFRE. "Mobilizing resources for education and outreach is a great step forward in helping others learn how to prevent accidents before they happen, and represents our core values as an organization. Fostering programs like this one is an important action for us to take and will help achieve Fundación MAPFRE's Goal Zero vision of a world where no girl or boy is fatally or seriously injured."
The Injury prevention program is a comprehensive outreach program led by the Hospital's Trauma Center under the leadership of David Mooney MD, MPH. The goal of the program is to prevent and reduce the number and severity of injuries endured by children and adolescents in Boston and its nearby communities through the use of education, advocacy and research. The program takes a proactive approach to educating families by delivering information and providing safety devices as well as training providers with in person educational opportunities.
Through the support of Fundación MAPFRE, the Boston Children's Injury Prevention program will now be equipped with a dedicated Injury Prevention Van primarily focused on passenger, pedestrian, bicycle, and home safety and, more generally, childhood injury prevention. "Through the Boston Children's Injury Prevention program, we're trying to allow kids to enjoy full, active childhoods without the fear of injury," said David Mooney, MD, MPH and director of the Injury Prevention Program at Boston Children's Hospital. "Our partnership with Fundación MAPFRE and their support of this Injury Prevention Van will help us to do just that."
The Injury Prevention Van will travel throughout Massachusetts to schools, health and safety fairs, health centers providing education and equipment for home safety, bike safety, child passenger safety and general safety information.
Prevention and Road Safety is one of five specialized areas within Fundación MAPFRE. The main objective is to prevent injuries and to reduce injury rates and their consequences with special emphasis on those caused by traffic.
Be sure to look for the injury prevention van as it travels the roads of Massachusetts spreading the message that "safe play begins here".
About Boston Children's Hospital
Boston Children's Hospital, the primary pediatric teaching affiliate of Harvard Medical School, is home to the world's largest research enterprise based at a pediatric medical center. Its discoveries have benefited both children and adults since 1869. Today, more than 2,630 scientists, including nine members of the National Academy of Sciences, 14 members of the National Academy of Medicine and 11 Howard Hughes Medical Investigators comprise Boston Children's research community. Founded as a 20-bed hospital for children, Boston Children's is now a 415-bed comprehensive center for pediatric and adolescent health care. For more, visit our Vector and Thriving blogs and follow us on social media @BostonChildrens, @BCH_Innovation, Facebook and YouTube.
About Fundación MAPFRE
Fundación MAPFRE is a non-profit organization created by MAPFRE Insurance in 1975, which performs its activity in 29 countries and whose main objective is to promote the well-being of society and citizens across the company's footprint. It is the insurance company's majority shareholder, thus helping to ensure the firm's independence and shareholding stability.
The Fundación's operations focus on five areas:
Accident Prevention and Road Safety
Insurance and Social Protection
Culture
Social Action
Health Promotion
In 2016, the Fundación performed more than 350 activities around the world, which benefited nearly 17 million people.