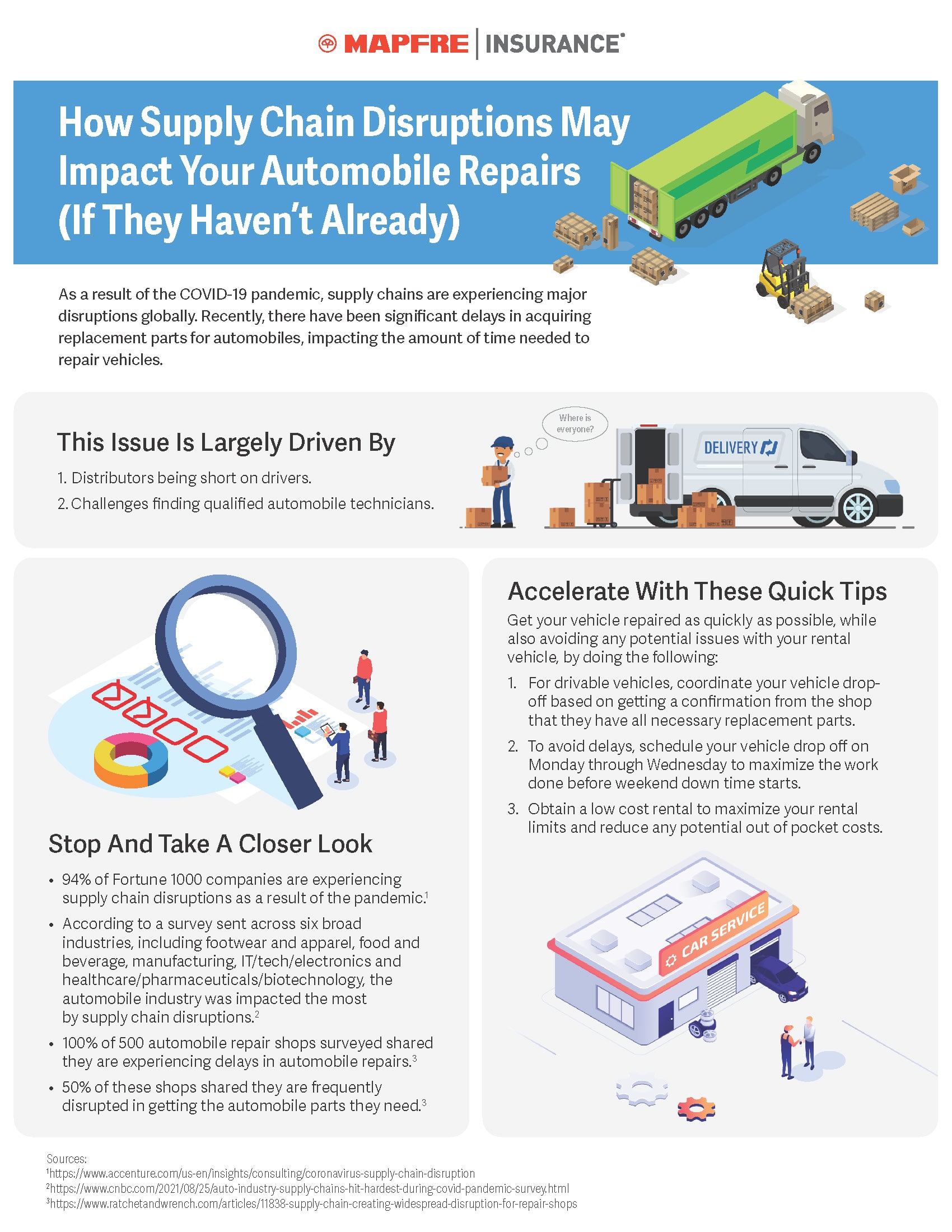 The effects of the global COVID 19 pandemic can still be felt, especially in the interconnected global supply chain. In the United States, the automobile repair shop network is facing both materials and skilled labor shortages, causing some auto repairs to take longer. This can also result in exhausting rental limits before the repair is complete.
While MAPFRE Insurance can't control the factors contributing to repair delays, we do offer services designed to get you back on the road as soon as possible. Programs including CAR EZ® and Safelite® Solutions for auto glass claims are in place to expedite the repair process.
When making your repair shop choice, please note that existing industry conditions could affect the repair of your vehicle. MAPFRE would like to offer a few considerations that are timely and relevant to the current parts marketplace situation.
Substitute Transportation / Rental
Review your choices for Substitute Transportation coverage. Rental coverage is subject to the limits purchased on your car insurance policy. The current supply chain challenges do not extend coverage beyond whatever limits you originally purchased.
When selecting a rental vehicle, when possible, opt for a rental vehicle with a lower daily rate. This choice will maximize the overall amount of available coverage.
Selecting a participating CAR EZ auto repair shop as the repair option provides the following benefits:
CAR EZ shops prioritize MAPFRE customers
Partnering CAR EZ shops have wide search capabilities for part availability
If necessary, the CAR EZ shop could arrange to pick-up the damaged vehicle
If applicable, the CAR EZ shop could coordinate a rental car for you
Repairs to the vehicle come with a MAPFRE guarantee, as long as the policyholder owns the vehicle
Exemplary customer service is offered throughout the repair process, including a thorough cleaning before the vehicle is returned
For drivable vehicles, coordinate vehicle drop-off based on the confirmation from the shop of all necessary replacement parts.
Schedule the vehicle drop off on Monday through Wednesday to maximize the work done before weekend down time starts.
Obtaining a low cost rental can maximize rental limits and reduce any potential out of pocket costs.
For more information regarding how vehicle replacement parts and skilled labor shortages may affect you following an accident, please contact your local independent agent.
Please Note: This content is not intended to describe any specific coverage offered by MAPFRE Insurance. No coverage is provided, bound or guaranteed by this article. Available coverages, credits and discounts vary from state to state and are subject to eligibility criteria and policy terms/conditions, which will control in the event of conflict between this article and your insurance policy. For information about your policy, please review your individual policy contract and speak with your insurance representative.
MAPFRE Insurance® is a brand and service mark of MAPFRE U.S.A. Corp. and its affiliates, including American Commerce Insurance CompanySM (Cal. COA 4928-8), Citation Insurance CompanySM, The Commerce Insurance CompanySM, Commerce West Insurance CompanySM (Cal. COA 1372-2), MAPFRE Insurance CompanySM (Cal. COA 3039-5), and MAPFRE Insurance Company of FloridaSM.