From gas to food to clothing, consumers in the United States continue to get hit in the wallet due to rising inflation and supply chain issues. Since the start of the pandemic, both issues have become growing concerns and if these problems weren't enough, homeowners in some states are also seeing their insurance premiums more than double, according to a 2022 Policygenius Home Insurance Pricing Report.
The report looked at Bureau of Labor Statistics data compiled from May 2021 to May 2022 and found that the price of goods and services increased by 8.6% — the largest 12-month increase in more than 40 years. During that time frame, 24 states had insurance rate increases that outpaced the inflation rate.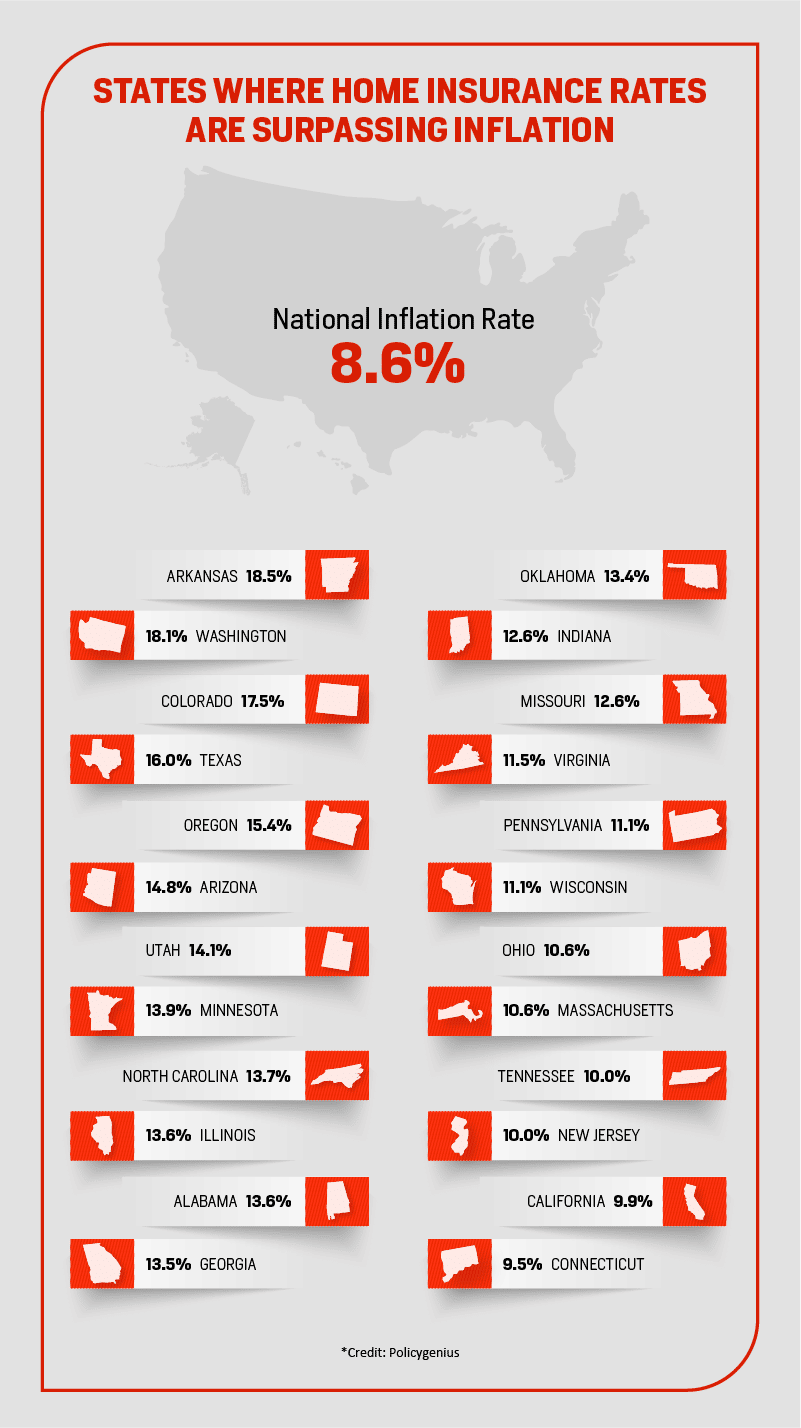 There are many factors besides inflation that have caused home insurance rates to rise. Among the trends are the rising costs of building materials, a shortage of labor, and rising insured losses related to natural weather events like wildfires, hurricanes, tornadoes, and other types of storms.
If you've had to file a home insurance claim, you probably had to deal with a supply chain issue at some point even if you didn't know it. Sometimes this is a longer wait for specific materials to arrive and other times it may be a much more limited selection due to availability frequently affecting materials like doors, shingles, or windows. While the supply chain issue has started to ease since the earlier days of the pandemic, CoreLogic, a property information, analytics and data-enabled solutions provider, found that while some material costs like lumber and plywood have declined, other materials like PVC pipes, slab doors, asphalt shingles and felt continue to rise.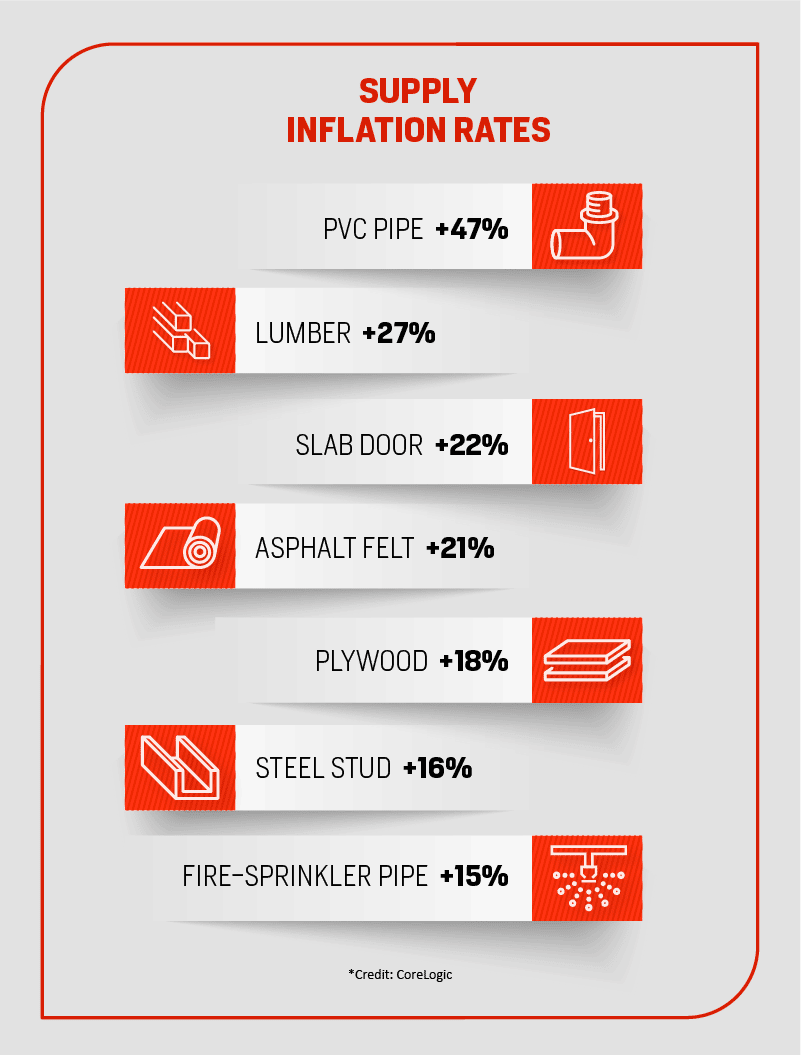 And as some materials are hard to come by, so too are skilled workers. CoreLogic found that from January 2022 to August 2022, residential and commercial labor costs grew for many fields of expertise causing companies to pay higher rates for labor.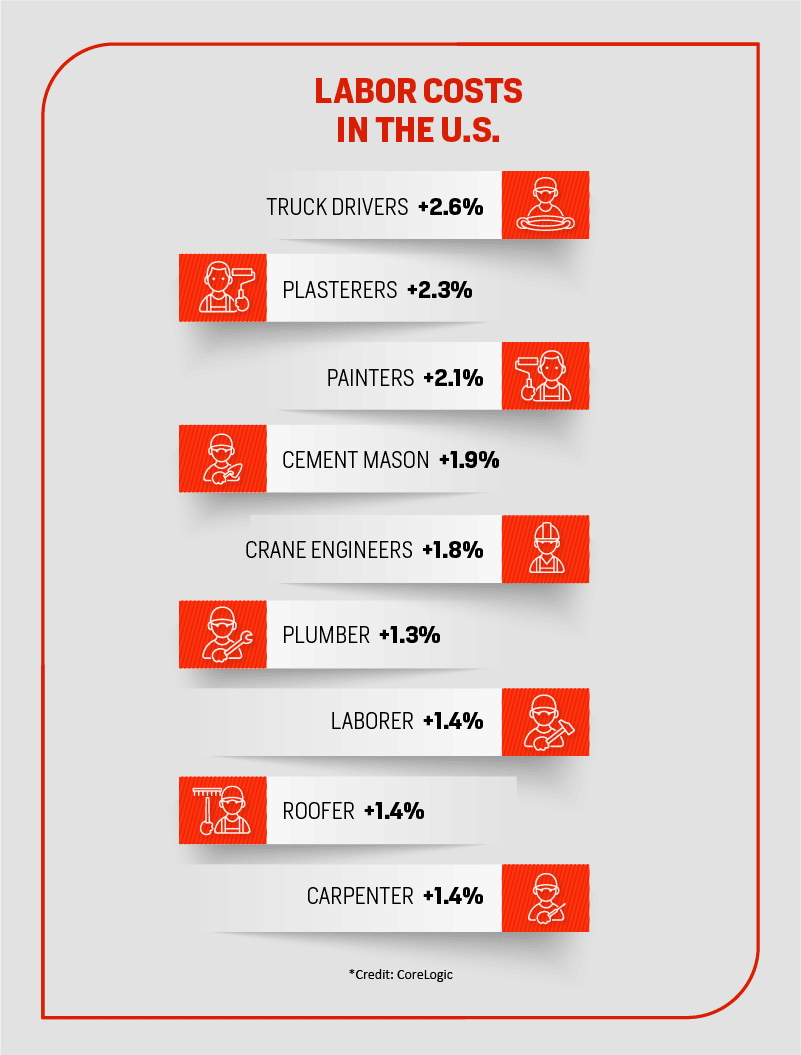 While MAPFRE Insurance cannot control many of these factors contributing to home repair delays or costs, we can help you through the steps you need to follow should you need to file a homeowner's claim. Here are a few things that you can do to hopefully help streamline your home claim as much as possible.
An option to help expedite your claims process is using MAPFRE's ePICS® Program for Homeowners. The ePICS® Program is a self-service damage assessment option offered to customers who have a claim with limited damage, such as a broken fence or mailbox. Customers can submit photos and answer a few basic questions about their damage through the ePICS platform from any device. Once the damage is assessed, a check is issued to the customer within a matter of days in many cases.
For more extensive damage, MAPFRE offers a unique expedited home repair service that helps you get back to preloss conditions called the Select Home Restoration ProgramSM. With MAPFRE's Select Home Restoration Program the repair process is accelerated and many of the services provided under the program are guaranteed. MAPFRE Insurance has partnered with "Select" restoration providers to deliver fast and high quality home repair services.
These partners adhere to high professional standards, have excellent reputations and provide superior customer service. When you have had unexpected damage to your property, your home restoration process should be quick and easy. While we cannot control some of the rising material costs due to inflation or delays due to supply chain issues, utilizing our Select Home Restoration Program can help streamline your homeowner's claim process as much as possible.
Are you unsure of what your home insurance policy covers, or do you need to add additional coverage? No problem! Your independent agent in your state can always review your policy with you to make sure you have the right coverage that suits your individualized needs.
And if you don't have MAPFRE for your home insurance, you can get the right homeowner's coverage for your property by calling an independent insurance agent in your state or, if you live in Massachusetts, by getting a fast, free quote today!
Check out the flyer below as a quick reference guide for what determines property insurance rates or you can download a PDF for reference.