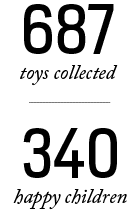 The holiday season is a very special time and MAPFRE employees often go to extended lengths to take care of people. MAPFRE employees formed the Toys for Tots Committee to support activities throughout the year that would complement yearly Toys for Tots drives.
In Massachusetts, MAPFRE employees held their annual bake sale and paint night to purchase a total of 571 toys. In addition to the toys collected through these activities, all employee donations totaled 687 toys for children in need.
The New York office was able to raise more than $2,000 as a result of several fundraising activities. MAPFRE employees attended the annual New York Toys for Tots Breakfast where they presented three Marines with an abundance of toys and a $1,500 check for additional gifts.
It is amazing to me what a group of hardworking and dedicated individuals we have on the Toys for Tots Committee. This year I volunteered to shop for the toys with the money we had raised throughout the year and it was an experience I will never forget. As we walked through the store, people were making comments like, 'Someone was good this year,' and each time that happened I felt great pride making them aware that all the toys were being donated to children in need. Each time we fundraise and purchase a toy, we are helping families one toy at a time to better enjoy the holidays."
– Nicole Bousquet, Claim Representative II (Webster, MA)