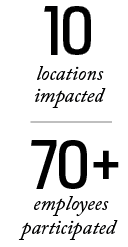 Every year, MAPFRE employees are proud to participate in the United Way Day of Caring which gives them the opportunity to go beyond monetary support by physically helping various organizations throughout the local areas.
Employees in the Ohio office spent Friday, September 11th, 2015 at Lindberg Elementary School where they helped to beautify the school grounds with painting, planting flowers, clearing brush and landscaping.
On Thursday, September 17th, more than sixty Massachusetts employees ventured out and completed tasks such as painting, landscaping and cleaning up to lend a helping hand at nine locations in the area.
Giving back to the community brings us joy! We really enjoyed working to make the Lindbergh Elementary School building a brighter place. I'm proud to be a part of a team that is so dedicated to living out our brand promise of taking care of people."
– Pat Filipkowski, Asst Vice President, (Columbus, OH)