Drowning is still the leading cause of preventable death among children 1-4. Accredited swim lessons between ages 1-4 reduce drowning risk by 88%. Here are other tips for keeping kids and guests safe in and near the water at your home or on your boat!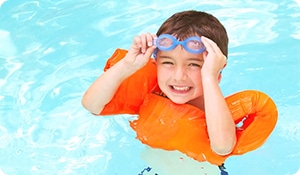 Swimming Safety
• Secure pools with a 4-foot or higher fence with a self-latching gate.
• Inexperienced swimmers should wear a Coast Guard-approved vest.
• Keep extra Coast Guard-approved vests on hand for guests.
• Watch children within arm's reach.
• Rotate supervising duties every 15 minutes with another adult to maintain vigilance.
• Avoid alcohol, cell phones, and reading while supervising children in the water.
• Know how to recognize and respond to a swimmer in distress and how to perform CPR.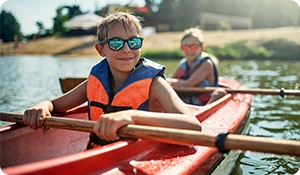 Boating Safety
• Ensure each guest has a properly fitting Coast Guard-approved life vest. Adult vests do not work for children.
• Require children under 16 to wear their life jackets at all times.
• Keep a first-aid kit on board.
• Check the weather forecast before heading out.
• Never allow passengers to board or exit your boat from the water when the engine is on—or idling.
• Designate a spotter for skiers and riders and review watersport hand signals.
• When picking up a downed skier, keep the skier on the driver's side to keep their position in sight at all times.
• When towing a tube, slow down when crossing wakes to avoid flipping riders.
• Avoid alcohol while operating a boat. Nearly half of all boating accidents involve alcohol.
Sources:
https://safeboatingcampaign.com/life-jackets
https://www.cdc.gov/healthywater/swimming/safe-swimming-week/feature.html
https://www.nsc.org/home-safety/tools-resources/seasonal-safety/drowning
https://www.discoverboating.com/ownership/safety/tips
https://www.nsc.org/home-safety/tools-resources/seasonal-safety/summer/boating